I have received a number of inquiries regarding the present location of Joseph Warren's home and office in Boston's North End of 1775 on Hanover Street. There are good reasons for such interest. On the evening of April 18, 1775, Joseph Warren dispatched Paul Revere and William Dawes on their famous Midnight Rides and into history and legend from his medical office. Thus, it was the location of the decision making and action comprising the proximate events triggering the Revolutionary War and, eventually, American independence.
One reader embarks on a personal Boston Marathon each year. He departs from where he believes Warren's house to have been, beginning his run in the evening before Patriot's Day and arriving, as did Revere and Dawes, at the Hancock-Clarke House in Lexington around midnight. He believes that visitors to Boston and the Freedom Trail would pay respects at the site of Warren's house on their pilgrimages to patriotic sites, if only they knew where it had been.
I previously posted an account of the house and how Warren came to rent it in 1770: Single House for Rent Complete with Ailing Widow and Slave. On the eve of the Revolutionary War, Joseph Warren still lived and worked in the rented house along with his apprentice in medicine William Eustis. Anticipating trouble, Warren had sent his fiancée Miss Mercy Scollay and his four young children in early April 1775 to live as a refugee family in Worcester with Dr. Elijah Dix.
I prevailed upon Charles Bahne, author of The Complete Guide to Boston's Freedom Trail, the best walking guide to historical sites in modern Boston, to describe the location where Warren's house once stood.
"Samuel Adams Drake's Old Landmarks and Historic Personages of Boston [1872, 1906] is my usual source for a lot of these kinds of questions. On page 68 Drake writes that Joseph Warren's house was on the site then [i.e. in 1906] occupied by the American House, which was a large hotel. The fire insurance atlases show the American House at 50-62 Hanover Street. The hotel was big enough that the back of the hotel was almost at Sudbury Street.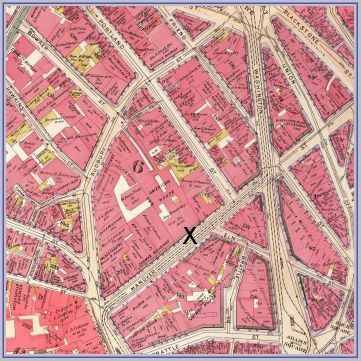 Approximate Location of Joseph Warren's House on a 1902 Map
I often use the "Boston Atlas" created by the Boston Redevelopment Authority some years ago, since it has pieced together the pages of those fire insurance atlases, sort of like a big jigsaw puzzle, and then aligned them with modern satellite views. You can't do a transparent overlay, but you can do a click-on, click-off, toggling back and forth between the different maps. The alignment isn't perfect but it's close enough for this kind of work. The two images are screen shots that I took off of the Boston Atlas site.
In any case, the Boston Atlas shows that the front portion of the American House was near the low-rise portion of the JFK Federal Building.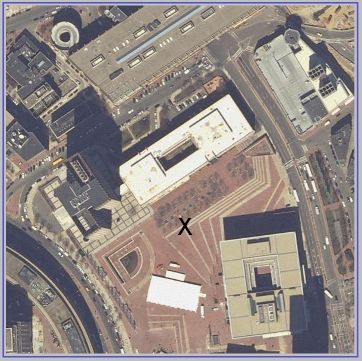 Approximate Location of Joseph Warren's House – Government Center Plaza
Relative to Joseph Warren's youngest brother Dr. John Warren, S. A. Drake says on page 60 that John Warren's house was on the site of the Niles Building, which would be 27 School Street, the building just to the east of Old City Hall. The present building on that site is also called the Niles Building, although it was erected after 1906.
Speaking of Dr. Joseph Warren, his Masonic association made him a frequent visitor to the Green Dragon Tavern. I have also been able to identify its site with pretty good accuracy. It was just where the present Orange Line entrance to Haymarket station is, on Congress Street (or "New Congress Street") just north of Hanover Street. That one was pretty tricky since the Green Dragon didn't really face Union Street, it was set behind some other buildings. And the street layout there was changed in 1872 and again for Government Center. But the late 1800s and early 1900s atlases show a "Green Dragon Building" on the site, the land still owned by the Lodge of St. Andrew!! And it turns out that when the Orange Line subway was built in 1908, they put one of the entrances in the Green Dragon Building.
In a recent posting on J.L. Bell's Boston1775 blog, the question arose about John Adams' residence at the time of the Boston Massacre. J. L. points out that Adams lived on Cold Lane, which later became part of Portland Street, but which was likewise erased for Government Center. As you'll note from the 1902 map I sent you, that block of Portland St./Cold Lane was just around the corner from Joseph Warren, closer to him than the Green Dragon Tavern was."
Thank you, Mr. Bahne!
The fourth edition of his guidebook The Complete Guide to Boston's Freedom Trail, is coming out this spring. Look for it at finer shops around Boston and online. The current edition can be found at the Paul Revere House, BostonUSA.com, and Barnes and Noble online. Or people can order a copy of the third edition by U.S. "snail" Mail. Include a check to Charles Bahne for $6.95 (plus 43 cents tax in Mass.) to Newtowne Publishing, P. O. Box 381882, Cambridge, MA 02238-1882. Mr. Bahne hasn't yet set the price for the upcoming new fourth edition, but he advises that it will be higher.
Reference
Drake, Samuel A. Old Landmarks and Historic Personages of Boston. Boston: Osgood and Company, 1873 and 1906.