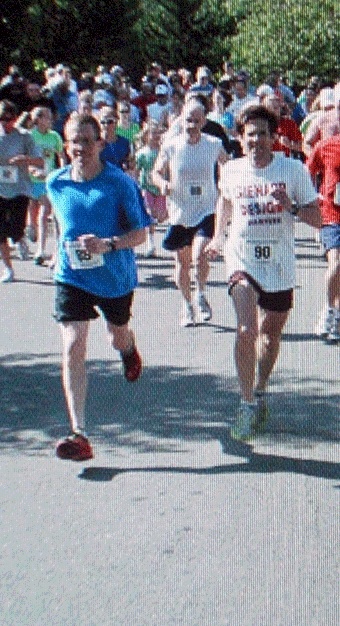 That headline reads a bit cockeyed. Revere had the able assistance of a horse, by tradition named Brown Beauty. He did not don running shoes, which in any case would not as yet have been invented.
Local runner Michael McHugh plans again this year to embark on his annual run in homage to the iconic events of the evening of April 18, 1775, when Paul Revere and William Dawes were dispatched by Joseph Warren in Boston to alarm the countryside in anticipation of a British armed foray to Concord. In the historic episode, Dawes and Revere were sent by Warren, acting as president of the Massachusetts Provincial Congress and its Committee of Safety, from Warren's home and medical practice located on Hanover Street in Boston's North end to warn Samuel Adams and John Hancock, then in Lexington, and Patriots all along the route to Concord. These were the proximate acts initiating the Revolutionary War and, eventually, American independence. Michael begins his annual run near the site of Warren's home, at some indeterminate spot buried under the north side of the forlorn plaza fronting City Hall, approximates Dawes' route exiting Boston, runs on to Cambridge, goes west through Arlington, and finishes at the Hancock-Clarke House in Lexington, a distance of 17.5 miles. The latter structure, Adams' and Hancock's refuge in those uncertain April days, survives in fine form.
As described in a previous post, Dr. Joseph Warren dispatched Paul Revere and William Dawes on the Midnight Ride between 9:30 and 10:00 PM on April 18, 1775. This year an ankle injury afflicting Michael McHugh necessitates a shorter route starting in Cambridge. Accompanied by his brother John, the two plan to arrive in Lexington about 11:45PM on Saturday night, a time of night approximating the arrival of Revere and Dawes.
There are plenty of exciting and inspiring reenactments and commemorations in Lexington and Concord this weekend from Saturday morning through Patriot's Day Monday. Here is the formal schedule of events for the entire weekend. Saturday late evening, when the McHughs arrive, will be quiet. Ironically, a well done, free outdoors play of Revere and Dawes' arrival on horseback will occur the following evening, Sunday, on the ahistoric date of April 19, 2015. Such anomalies occur when holidays are forced to fit into three-day weekends.
The Boston Marathon on Patriot's Day was originally put on to honor the events of America's Founding. Over the decades it has been deracinated of its patriotic origins. It is now just another, albeit incredibly popular and much loved, athletic event on the international marathon running circuit.
McHugh's quest is a mash-up of running and history. I do believe that the brothers Michael and John McHugh will carry forth the true spirit of Patriots' Day this weekend, pursued on the precise 240th anniversary evening of its historic occurrence.
If athletic readers are motivated to accompany the McHugh brothers on their journey, they invite contact via email: mail.mchugh<at>gmail.com. In the picture John appears on the left donning #89 and Mike is on the right wearing #90.